A range of services and integrated services
Ship repair makes its reputation among its clients. Our experience, the quality of our services under the control of the companies of classification and our infrastructures make that our clients can access to a complete range of services in ship repair.
Infrastructures available and an experienced team in ship repair at your service:
A dry dock: 199m long, 26.4 m large and 8m of draught at the modular entry in 2 independent basins of 128m and 67m long
Equipment of the dock:


Cranes on rails: 2 cranes, CMU: 18 tons
Cranes on wheels: 1 crane CMU : 20 tons, 2 cranes CMU: 28 tonnes, 1 crane CMU: 45 tons

Slipway: hauling CMU: 80 tons, length : 60 m
2 pontoons of 75.60 m x 9m and 54.40 m x 9 m
An independent electric power station that can provide a power of 2500 KVA
Our team is made up of more than 600 people on the site.
The range of jobs of ship repair available at the Secren: Mechanical workshop :
Workshop grouping the engine, auxiliary machine and quay repair and mechanical production. Visit and restoration of all the mechanical, hydraulic and pneumatic devices of ships. - dismantling and reassembling works of small and large scale: pump, valve shell, valve, check valve,... - servicing of turbo blower following the norms and conditions of warranty - visit of shaft.
Mechanical production workshop Machining, manufacture and production of mechanical parts.
Boiler work All boilerworks (sheet metal, piping, tank,...)
Casting Hot galvanization of metals by immersion Regulating bearing shells Confection of moulded parts.
Surface treatment Sandblasting Types of paints: Primer, anticorrosive, antifouling (paint made from silicone)…
Electricity Visit and maintenance of electrical engines, alternators and all electrical devices on board Control of electrical installations on board Installations of new electrical devices
Fire Security service Ensures the security of hot work, the control of explosiveness rate of gases of the capacities Degassing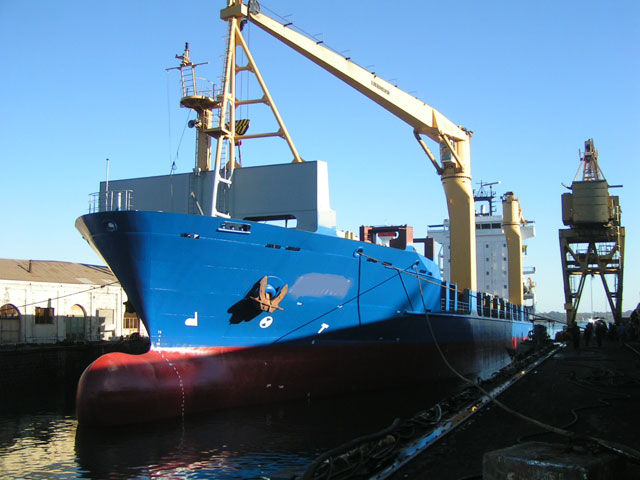 Practical information:
The dock is very busy from March to July due to the tuna fishing campaign, we advise you to reserve 4 to 6 months in advance.